Healthy Homes Start at the Top
Roof Co Group is your industry leader providing quality services for all your roofing needs.
We are the #1 for Roof Repairs Brisbane.
Our knowledgeable team offer a broad range of expert solutions to residential & commercial clients for all your roofing needs. Call us today to book in your roofs free health check.
We provide quality roofing services to Brisbane, Ipswich, Logan, Redlands, Gold Coast & surrounding areas.
We Specialise in All Roofing Services
Whether you have a metal roof or tile roof that requires some attention, we have you covered. We specialise in roof leak detection, roof repairs, roof maintenance, roof replacement and roof restoration, to name a few. Our team are highly trained to tackle any roofing issues with precision & efficiency to ensure your satisfaction & piece of mind. We'll provide an obligation-free roof health check to carefully diagnose and promptly treat any issues identified.
We provide our clients in Brisbane roofing services they can rely on. We also service Ipswich, Logan, Redlands, Gold Coast & surrounding areas.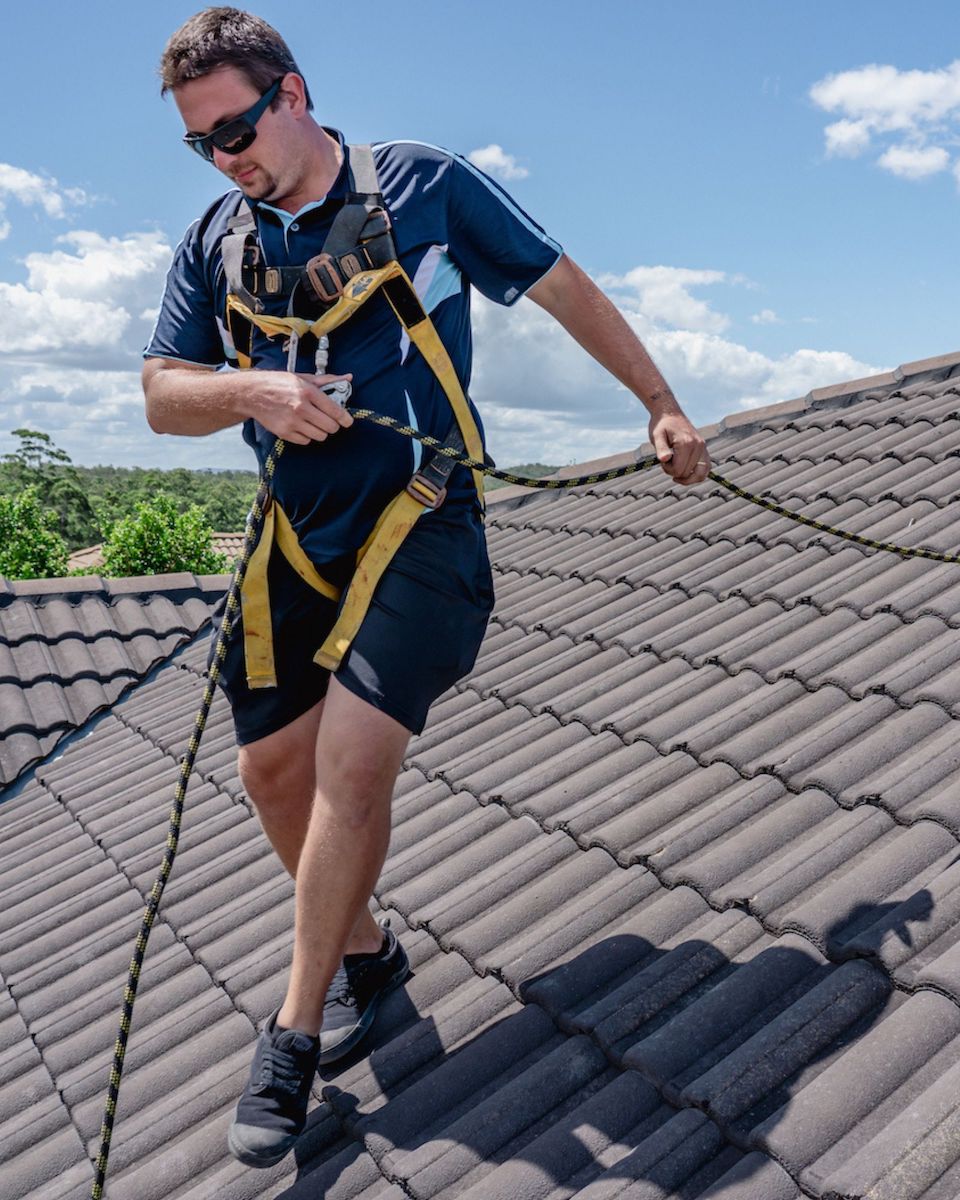 Roof Co Group – Services We Provide
Roof Repairs & Maintenance
Keep your roof in top shape with our comprehensive repair, upgrade, and maintenance services. Our experienced team can tackle any issue to ensure your roof is functioning at its best.
Roof Leak Detection
Our expert inspectors and technicians are highly-skilled and efficient at identifying problematic leaks that are hard to see by the untrained eye, and can quickly remedy the issue.
Roof Replacement
If we determine that your roof is beyond repair, our team can provide expert replacement services for residential, commercial, and industrial properties.
Roof Restoration, Cleaning & Painting
Refresh, repair and extend the life of your roof with our expert roof restoration services. Our team will reinstate your existing roof to its former glory to ensure you get the most out of it for years to come.
Whirlybirds & Roof Ventilators
Sufficient ventilation is essential in ensuring better air circulation and a healthier living environment, and help eliminate the risk of mould growth and condensation.
Skylight Replacement & Repairs
Installing skylights are an optimal way to create a beautifully illuminated, welcoming space in your home or business.
Gutter - Replacements, New Installations, Repairs & Upgrades
Protect your property from water damage by making sure your gutter system is functioning the way it should. We provide quality solutions for replacements, maintenance & upgrades for all your gutter & downpipe needs.
Downpipe - Replacement, New Installations, Repairs & Upgrades
Whether your existing downpipes have had all they can take and you require downpipe replacement, or you are in need of additional or new downpipe installation, we have you covered! 
Gutter Guard - New Installations & Replacements
Clear, free-flowing gutters are essential in helping your gutter and downpipes system perform efficiently and protect your property!
Solar Panel Cleaning
Solar panel cleaning is essential in making your home as energy efficient as possible. Our regular cleaning & service checks may result in a drastic reduction or even elimination of your electricity bill.
New Patios & Carports – Installations & Replacements
Are you in need of a new patio or does your existing patio need some attention? We specialise in new patio installation & existing patio repairs and upgrades to ensure you always experience the best of outdoor living with family & friends.
Existing Patios & Carports – Repairs & Upgrades
Patio Roofs, like all roofs, need to be well maintained and repaired where required to ensure they can serve you in a sound manner during the long hot summers and relentless wet storm seasons.
At Roof Co Group, our mission is to ensure you are 100% satisfied with your experience with us, whatever service you engage us for.
R
We will always aim to show up when we say we will or give as much notice as possible if the schedule changes.
R
We will always aim to put you first
R
We will always aim to be kind, courteous and approachable
R
We will always aim to be transparent, honest and trustworthy
R
We will always aim to provide clear communication
R
We will always aim to provide the best solutions
R
We will always aim provide the very best workmanship
Healthy Homes Start At The Top.Book Your Free Roof Health Check Today.
Our friendly office staff are great at organising the whole process to make it a pleasant and simple experience for you. Once we have received your request, we will arrange one of our experienced estimators to carry out a thorough onsite inspection followed by a transparent quotation and report, including everything your roof needs. If you require any additional information, our estimators and office staff are always more than happy to assist and help you fully understand. After you approve your quotation, all works are scheduled in and promptly completed by our specialised team of tradesmen. Then all that is left to do is sit back, relax & enjoy the peace of mind knowing your roof is in tip top shape for many years to come.
Protect your most important Assets with Roof Co Group
Our team at Roof Co Group, understand that your property and the people in it are one of your most important assets. That's why we're always committed to helping you protect these assets, by ensuring that all our roofing services are completed to the highest standard. With over 50 years of experience, our team has provided roof repairs in Brisbane & surrounding areas for over a decade, helping home owners, landlords and commercial building owners keep their roofs in great health.
We offer a comprehensive range of services to our clients including roof repairs, roof maintenance, roof replacement, roof restoration, roof ventilation, patio installation, solar panel cleaning to both tile roofs & metal roofs in order to safeguard their homes and businesses.
Not only do we keep our clients roofing needs in check, we also offer a wide range of gutter services including gutter replacement, gutter repairs, leaf guard & down pipe replacements to ensure your whole roofing system from top to bottom is in perfect working order.
Contact our friendly team of experts today to see how we can help with your roof and gutter needs.
Our Roof Repairs Brisbane FAQ:
How Do I Know if My Roof Need to be Repaired or Replaced?
If you're wondering whether your roof needs repair or replacement, there are several key signs to look for. Firstly, consider the age of your roof. Most roofs have a lifespan of 20-30 years, so if yours is within this range, it might be time for a thorough inspection.
Visible damage, such as missing, cracked, or curling tiles, is a clear indicator that repairs or replacement may be necessary. Also, check for leaks or water damage, especially in your attic or the top floor, as these can signify a failing roof.
A sagging roof deck is a serious concern, often pointing to structural issues that might require a complete replacement. Additionally, excessive growth of moss and algae can indicate trapped moisture, potentially damaging the roof over time. Another sign is finding shingle granules in your gutters, which suggests that your shingles are deteriorating.
Lastly, an unexpected increase in energy bills could indicate poor roof insulation and ventilation, hinting at the need for roof work. If you observe any of these signs, it's advisable to contact a us ASAP in-depth assessment to determine the best course of action, be it repair or replacement.
Remember, addressing roofing issues promptly can prevent more extensive and costly damage to your property.
How Often Should I Have My roof Inspected?
We recommend having your roof inspected at least once a year, preferably in Spring or Autumn. Regular inspections can help identify potential issues before they become more serious and costly to repair. If you live in an area with heavy rainfall or foliage, you may need more frequent inspections and cleanings. Our roof restoration specialists can help with a program to keep your roof in great condition.
What sort of roof repairs do you offer?
We offer a wide range of roof repairs services, including roof replacement, roof restoration, roof leak detection and many more! Our goal is to get your roof repaired quickly and smoothly to protect your home.
Some of our services include:
Tile Roofing Repairs
Metal Roof Repairs
Leaking Roof Repairs
Terracotta Roof Repairs
Replacing broken tiles
Full new roof installation
Roof restorations
Roof servicing
Roofing for commercial properties
Plus many more! Our team is trained to ensure that you get your roof repaired quickly regardless of the issue.
How can I be certain you are one of the best Brisbane roofing companies?
As leading roofing service providers in Brisbane, we at Roof Co Group take pride in our exceptional expertise and comprehensive services in the roofing industry. Our specialization in roof repairs in Brisbane equips us with a deep understanding of the unique challenges and requirements of roofing in this area. This specialization ensures that we can offer tailored solutions that meet the specific needs of each client. Additionally, our services extend beyond simple repairs to encompass a full range of solutions, including restoration, guttering, and fixtures. This versatility allows us to address a wide array of roofing issues, making us a one-stop solution for all roofing needs.
Our professional approach is characterized by a commitment to providing in-depth assessments for each project. This thoroughness is crucial, as it ensures that every aspect of a client's roofing situation is carefully evaluated, leading to more accurate and effective solutions. We understand the importance of a prompt response and efficient service, recognizing the urgency of roofing issues and their potential impact if not addressed swiftly.
Finally, our proactive stance on roof maintenance and repair is a key aspect of our service philosophy and why we stand out in the roofing industry as leaders. We are one of the few Brisbane roofing companies that always advise clients to address roofing issues promptly, emphasizing the importance of preventing extensive and costly damage. This approach not only saves clients money in the long run but also ensures the longevity and durability of their roofs. Our dedication to quality, efficiency, and customer satisfaction is what makes us a reliable and trustworthy choice for anyone in need of roofing services in Brisbane.