Is your roof beginning to age & suffer from common general maintenance issues?
Our quality roof restoration service may be the answer to help prolong the life of your roof. Roof restoration & routine roof maintenance will ensure your roof stays in prime condition for longer, delaying avoidable roof replacements & extensive roof repairs. We provide our clients in Brisbane roof restoration services they can trust in.
We provide our clients in Brisbane Roof Restoration Services they can be sure will pass the test of time. We also service Ipswich, Logan, Redlands, Gold Coast & surrounding areas.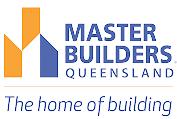 Tile Roof Restoration Brisbane
Tile roofs rely heavily on the sealer coat and membrane coating. These are prone to deterioration over time causing roof tiles to become porous, allowing water ingress. In this situation, a roof restoration is required to bring your roof back to its original watertight condition. Although concrete tile roofs and terracotta tile roofs may not corrode, they are subject to more frequent maintenance repairs to keep them in prime condition.
Before commencing the roof restoration process of cleaning, sealing & painting your roof, there are some common roof repairs that may be addressed. These include replacing cracked tiles, rebedding loose bedding, repointing cracked pointing, servicing tile rain channels, replacing faulty tile clips, resarking, replacing lead flashings, and replacing and/or servicing corroded valley flashings.
Our experienced team of roof tilers and roof painters are highly trained in tile roof repairs and tile roof restoration to ensure your roof gets the quality workmanship and attention it requires.
Metal Roof Restoration Brisbane
Metal roofs are vulnerable to corroding. While the rusting process can not be completely stopped, being proactive and keeping on top of your roof maintenance, roof repairs and roof restoration duties will play an essential part in prolonging the life of your metal roof, meaning you can significantly delay the expensive task of replacing your roof.
Roof repairs and maintenance such as replacing old screws, sealing and servicing roofing components, and replacing faulty roofing components should be completed where required before the metal roof restoration process begins.
Roof Co Group have highly skilled metal roofers and roof painters to complete your roof repairs, roof maintenance and roof restoration projects to the highest of standards and keep your metal roof in optimal condition.
Quality Equipment & Materials You Can Depend On
Roof Co Group use professional-grade equipment and source only the highest quality products and materials to ensure your roof restoration is completed to the highest standard so you can always depend on it to protect your property from the harsh external elements.
Roof Pressure Washing & Roof Cleaning
Over time, roofs are known to accumulate dirt, debris, moss and other organic matter that can make a roof appear damaged and worn out, but in reality, is just in need of thorough cleaning. Roof Co Group uses professional-grade cleaning agents and mould treatments when pressure washing your roof to guarantee the best possible outcome. Our experienced roof cleaning technicians are equipped with the best quality commercial-grade equipment and proven techniques to provide a thorough and safe cleaning process from start to finish.
Roof sealing is an effective way to protect your roof from leaks, water damage, and other issues. It involves applying a specially formulated sealant to your roof, creating a waterproof barrier that helps to prevent moisture from penetrating the surface. Our experienced technicians use high-quality materials and advanced techniques to ensure your roof is fully protected and able to withstand the elements for years to come.
Roof painting is often an essential part of your roof restoration process. After roof cleaning, painting can give a faded or dull roof new life, and help to protect it from moisture and the harsh effects of the Queensland sun.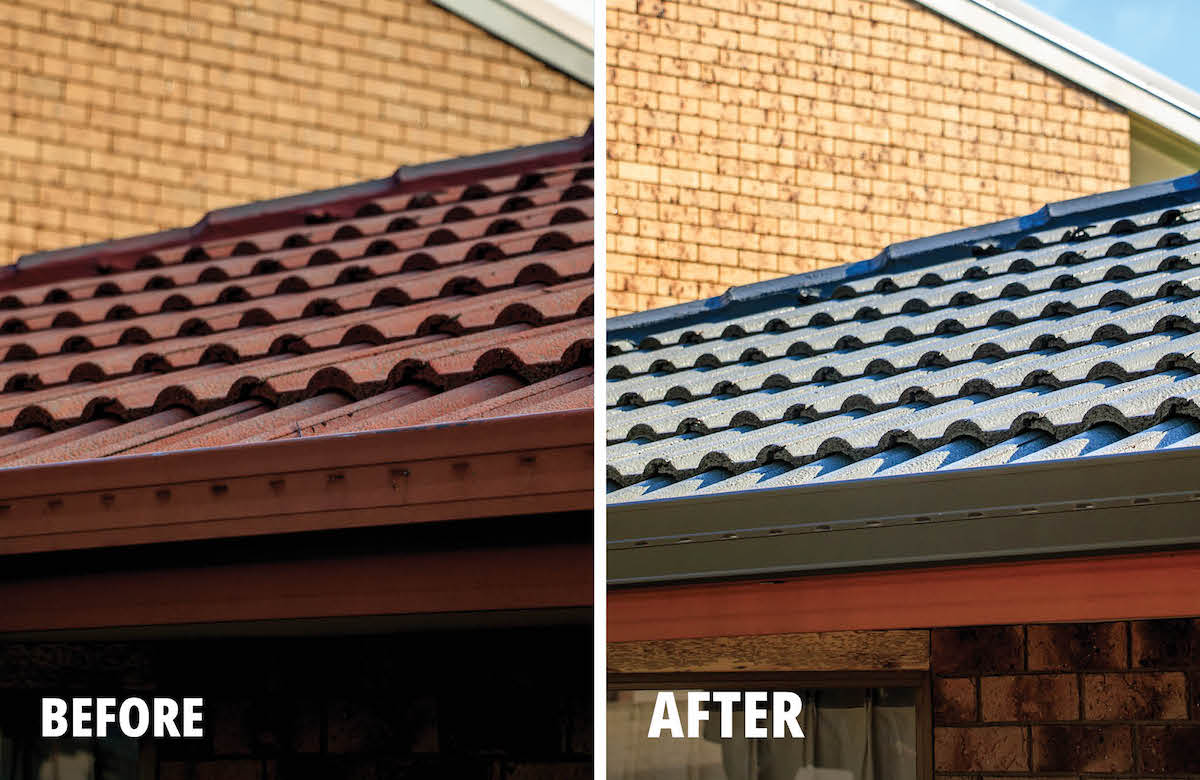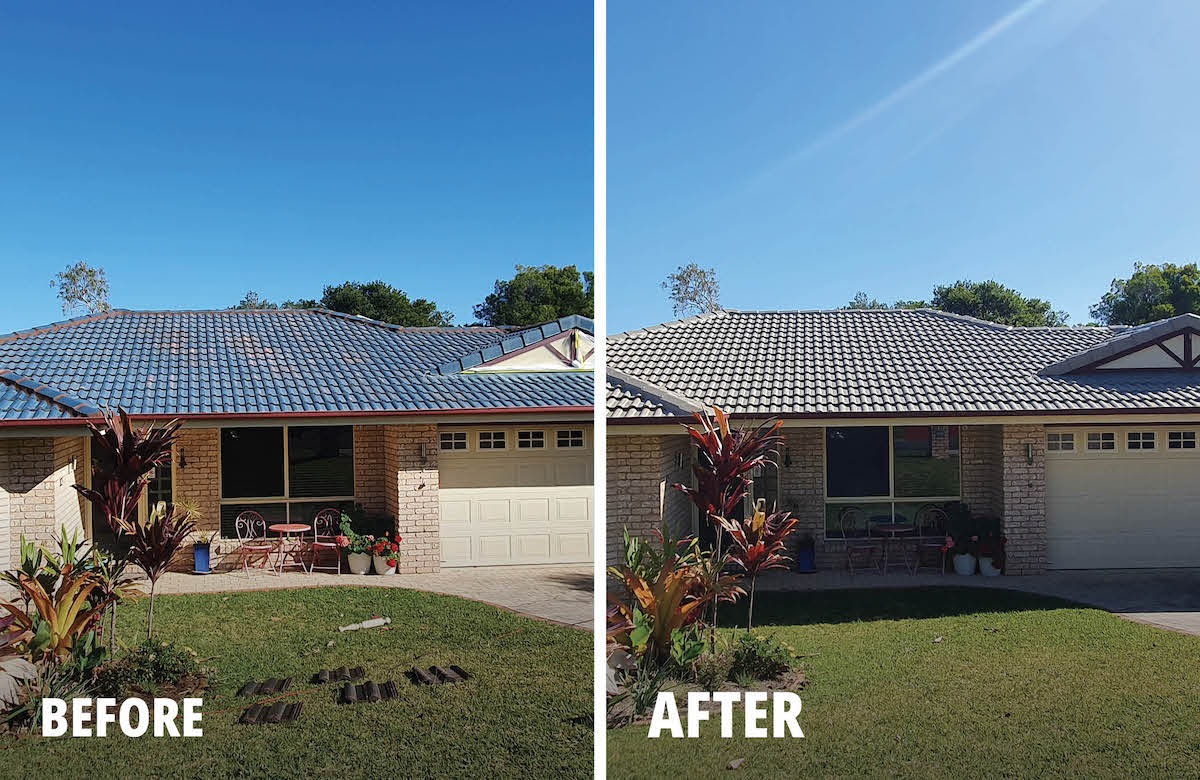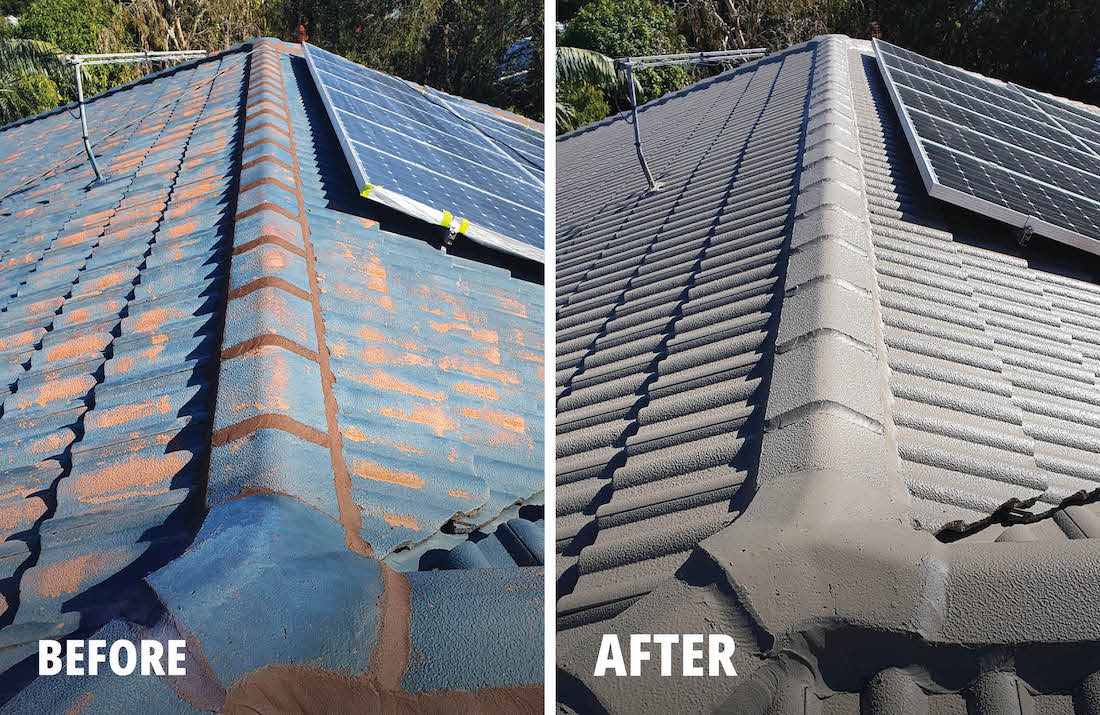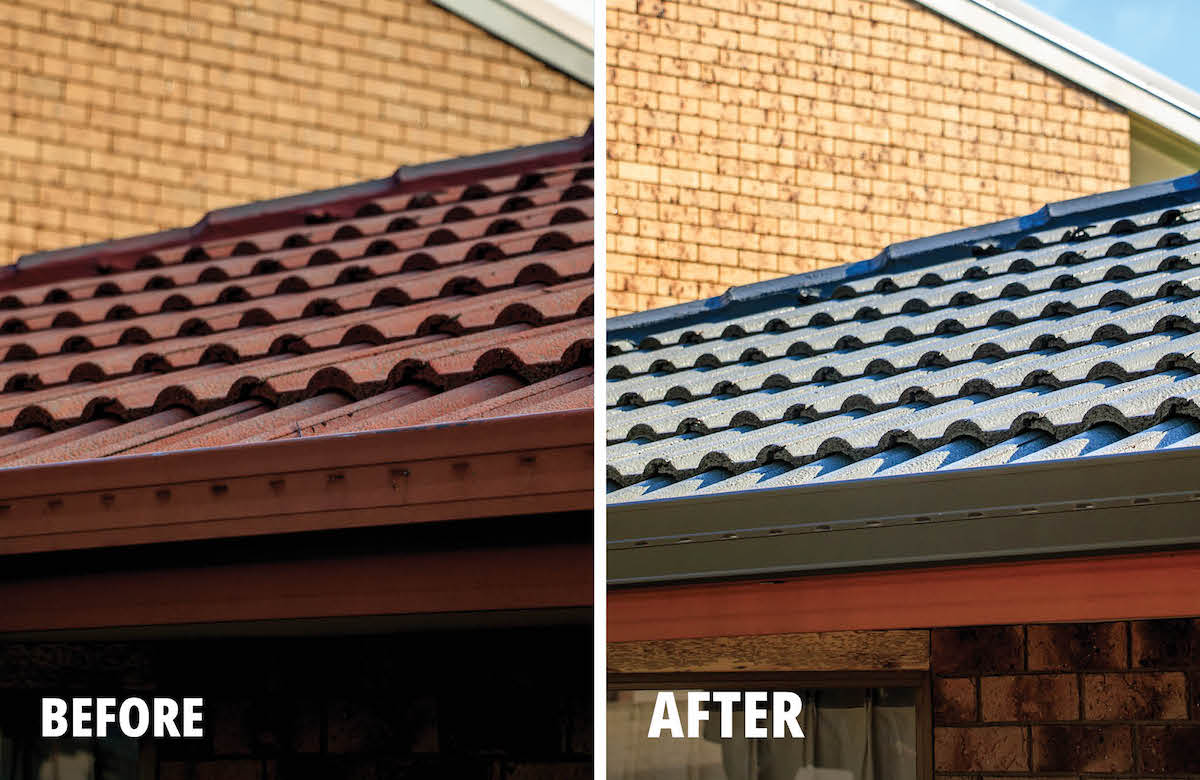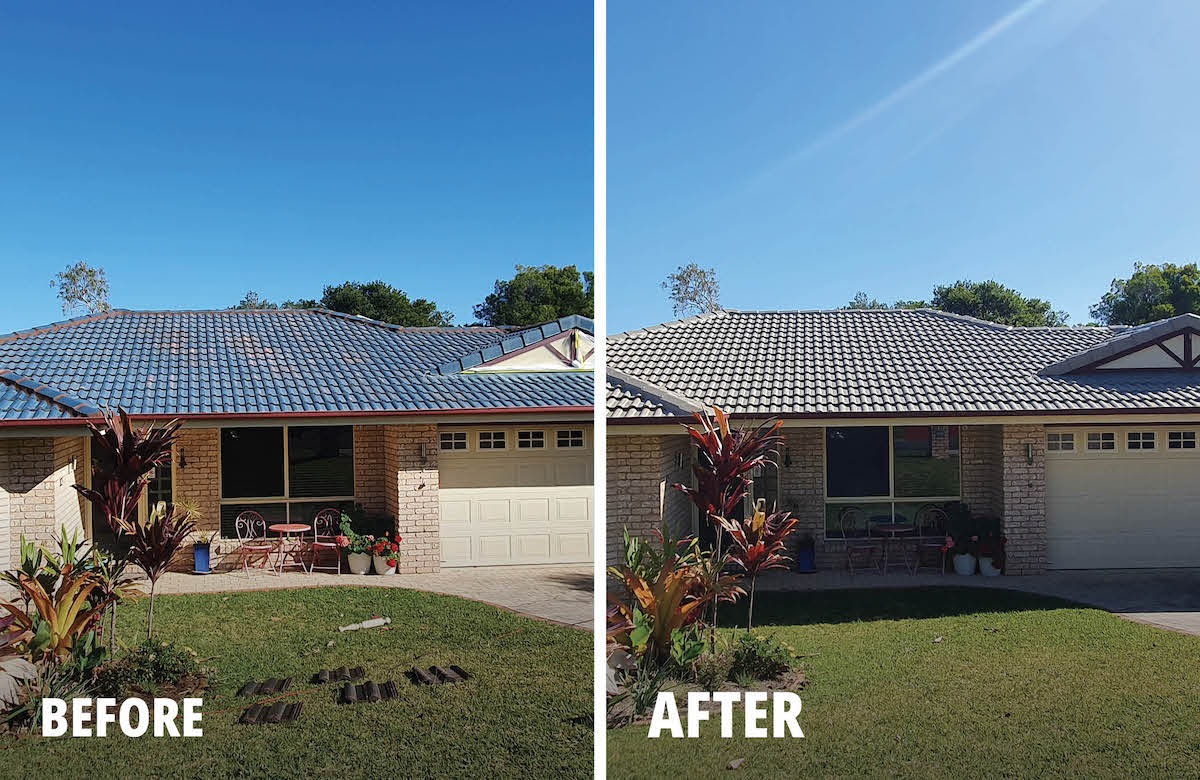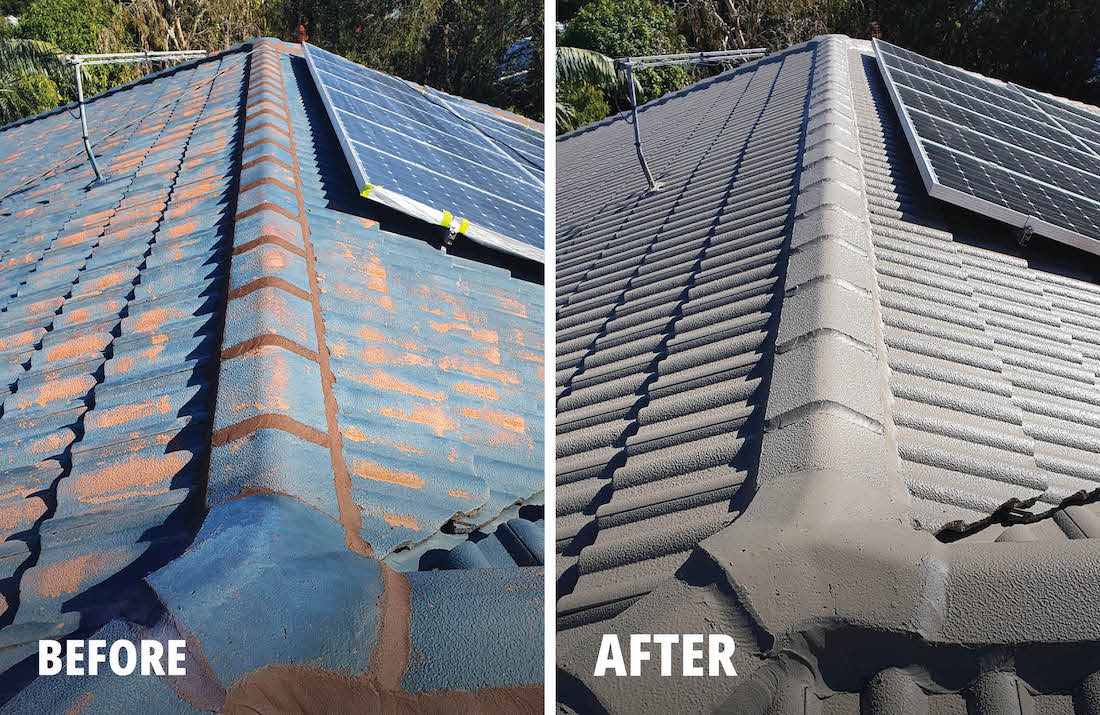 Why Choose Roof Co Group For Your Roof Restoration Brisbane?
Experience, expertise, and professionalism are what make us the right choice for your roof restoration needs. Here are some reasons why you should choose us:

TRAINED & QUALIFIED TO WORK AT HEIGHTS
Our team is comprised of experts who are trained and qualified to work at heights, ensuring that all roof repairs and maintenance are completed safely and efficiently.

A SAFETY-FIRST APPROACH
We take safety seriously and prioritise the safety of our team, your family, and your home by adhering to strict safety protocols.

SPECIALISED TOOLS & EQUIPMENT
We use state-of-the-art tools and equipment to ensure that your roof repairs and maintenance are done to the highest standard.

TRANSPARENCY WITH COST
We understand the importance of transparency when it comes to costs. Our initial quote will clearly outline all costs, and we will inform you ahead of time if any additional charges are required.

LICENSED & INSURED
Our team holds all necessary licenses and insurances to provide you with peace of mind while we work on your roof.

CLEAR COMMUNICATION
We value clear communication. Our team will keep you informed at every stage of your roof repair or maintenance project, ensuring that you always know what is happening.
Ready to book your roof check?
Roof Restoration & Upgrades: FAQs
How Long Does a Roof Restoration Take?
Determining the exact duration of a roof restoration can be challenging due to the nature of the work involved. While a basic restoration may take as little as three days, a more intricate restoration with numerous components could take weeks to complete. The length of time required for the restoration is dependent on various factors, including the required materials and the extent of the roof restoration needed. If you have concerns about the time frame, our friendly team is always available to answer any questions you may have. Please don't hesitate to reach out to us.
Can You Restore Commercial Roofs Too?
Yes, we can. We can complete home, commercial and even industrial roof restorations. The RoofCo team specialise in tiled and metal roof restorations, However, we can work with and restore a large variety of roofs. If you're wondering if we can restore your roof, just get in touch with our friendly team.
How Long Will My Roof Restoration Last?
Once your roof has been restored by our team, you can expect it to last for a minimum of 10 to 15 years with proper maintenance. It's important to keep your roof well-maintained to avoid any long-term damage, buildup of debris and dirt, and to ensure optimal functioning. Our team will ensure that your roof is set up for longevity after our restoration services by taking all the necessary steps.
In Need of a Roof Restoration?
Contact Roof Co Group today to schedule your free roof health check to see if your home, office or industrial building is in need of our professional roof restoration services. Our experienced team will work with you to assess your roofing needs and provide a tailored solution that fits your budget. With our top-quality materials and expert craftsmanship, you can trust us to restore your roof to its former glory and ensure that it lasts for years to come. Get in touch with any questions you might have, or to organise your free roof health check today by clicking the button below, or contacting us on 07 3297 5729 or info@roofcogroup.com.au.